This months vigils called for an end to the UK's arms sales to Saudi Arabia, which are fueling the conflict in Yemen. Since 2015, over 10,500 people have been killed; more than three million people have been displaced, and at least eight million people face imminent famine, which worsened after November 2017, because the Saudis tightened their sea, air and land blockade.
Many passers-by thanked us for our vigil on this theme, and so we carried on with the vigil throughout the month.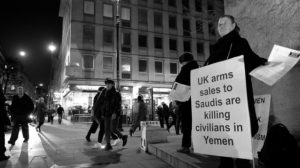 Many thanks to Alisdare Hickson who sent us photographs he took of our vigil. You can see the other photos, and Alisdare's comments on our vigil here ; photos are posted on a Creative Commons basis.