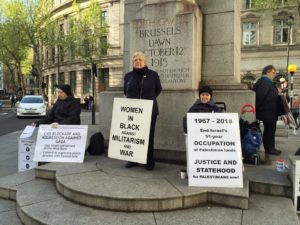 Women in Black is an international movement that was founded in Israel in 1988. Prompted by the first Palestinian intifada, a group of women, Israeli Jews and Palestinian citizens of Israel, stood together to call for an end to the Occupation of Palestinian lands. The first Wednesday of every month we still vigil for this reason. If you agree with us, please join.
Following this week's vigil on 6 June, we sent a letter to Prime Minister
Dear Theresa May,
We were very pleased to read in an article of 6 June in The Independent reporting on your meeting with Mr. Netanyahu  that you had used the occasion to express your concern at the many deaths and injuries in the recent confrontations of the Israeli Defence Force and Palestinians at the Gaza border, and that you had urged him to resolve the situation.
Justice for Palestinians is a cause for which Women in Black campaign regularly in our London vigils, and we find it elicits warm support from passers-by.  We like to think that the resulting petitions we frequently send you will have encouraged you to put pressure on the Israeli government in this way. We urge you to continue to do all in your power to bring Israel back to the negotiating table for a peace agreement and statehood for Palestinians.
Yours sincerely,
Women in Black London